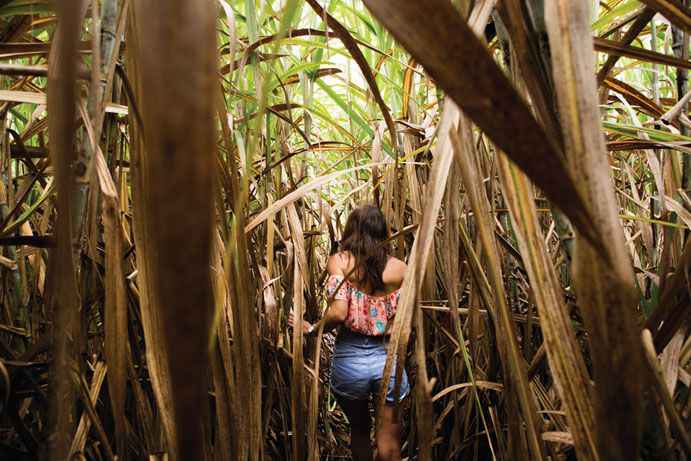 She may be nestled between two of the nation's biggest drawcards – the Great Barrier reef and the Daintree Rainforest – but that doesn't mean you need to be rolling in dough to make the most of Australia's adventure capital.
From snoozing between two World Heritage sites to discovering natural pyramids and crystal caves, here are 20 cheap and free things to do in Cairns for under $25.
1. Trek between Queensland's highest peaks
Follow in the footsteps of pioneering gold prospectors walking the low saddle between Queensland's two highest peaks, Bartle Frere and Bellenden Ker.
The Goldfield Trail is perfect for those who love a decent hike but aren't ready to commit to a steep mountain incline (it's a toughy and should only be tackled by fit, experienced bushwalkers).
Starting at the Babinda Boulders, one hour south of Cairns, the trail takes on 19kms of Wet Tropics rainforest (aka one of the oldest living rainforests in the world) in Wooroonooran National Park.
Obviously you're going to need more than a day if you want to do the full return trek, but many a day-tripper are happy to get to the half-way point – roughly about 4.5km in is where you'll find a large creek lined with king ferns – before turning back.
Cost: Fuel to get you there plus snacks for the journey.
2. Become a bonafide reef expert
Before getting face down, snorkel up (or going full Scuba Steve) on the Great Barrier Reef, drop in to Reef Teach to school-up on what to look for and where to find it.
Every night from Tuesday to Sunday the team of marine biologists aim to stuff you silly with interesting facts and insights to help you better understand the wonders of this World Heritage beauty.
Better still, you'll feel as boss as David Attenborough being able to relay the different species of marine animals and coral you spot on your next underwater adventure.
Cost: Catch the two-hour evening show for just $23/adult.
3. Swim in a volcanic crater
Pack the inflatable toys because you'll want to spend a full day soaking up the freshwater glory that is Lake Eacham.
A giant crater which blew up when magma and groundwater came into contact around 10,000 years ago, this maar (as it's technically called) is a welcome refuge from the tropical heat and makes for a scenic drive through the Cairns Highlands.
Cost: Fuel plus change leftover for a cuppa and scones at the Teahouse Cafe over at Eacham's twin crater, Lake Barrine.
4. Hop aboard the Prawn Star
If you want the best seafood in Cairns, you eat it straight from the trawler at Prawn Star. 
Docked at the Cairns Marlin Marina, the boat slash seafood joint is famed for its quirky, no-fuss set-up and affordable prices. Nab a table onboard, or opt for take-out and head along the esplanade where there are plenty of picnic spots to choose from. 
Cost: While it's tempting to blow your budget on a jumbo platter, you can score a dozen oysters or kilo' of cooked prawns and still have change for beers.
5. Visit the largest butterfly sanctuary in the southern hemisphere
Step into nature's kaleidoscope at the Australian Butterfly Sanctuary in Cairns' cool mountain village, Kuranda. 
Home to over 1,500 free-flying tropical butterflies and moths, discover lush rainforest gardens as electric blue Ulysses or majestic green and yellow Cairns Birdwings flutter past. 
Don't skip on the free guided aviary tour to learn the butterfly's life cycle and behaviour before checking out the breeding laboratory, which houses up to 4000 caterpillars.
Most importantly make sure you wear bright colours  –red, white or hot pink – to attract butterflies to land on you.
Cost: Entry will set you back $20/adult.
6. Pitch a tent between two World Heritage-listed wonders
Looking for an adventure? Pack the tent and you won't need to fork out a pretty penny to sleep beside five-star views. Noah Beach in Cape Tribulation takes the crown as one of the best beach camping spots in Queensland, tucked under a lush rainforest canopy just 50 metres from the beach.
Once you lap up the tropical seclusion, take advantage of your central base and explore the national park walking trails or villages nearby.
Cost: Tent sites begin at approx $15 per night.
7. Learn some miltary history
Military buffs should make time to visit the Australian Armour and Artillery Museum, the largest museum of its kind in the Southern Hemisphere. It's dedicated to preserving and restoring armoured vehicles and artillery dating all the way back to the 1800's, and you'll find tanks, tank destroyers, mortars, howitzers, World War I and II armoured vehicles here. 
Cost: Adult entry is $27.50
8. Cool off with a waterfall dip
Cairns may sparkle, but there's seemingly endless natural beauty surrounding it. Pack your bathers and set out to discover the best waterfalls in our tropical north: some are a short drive out of town, or you can spend a whole day driving – and dipping – between each. 
Cost: A little fuel in the tank and snacks for your day.
9. Explore the Crystal Caves
Queensland is full of surprises – and one of the best cheap things to do in Cairns is to enter the sparkling world this is the Crystal Caves. Built in the main street of Atherton, explore a man-made museum created by crystal hunter René Boissevain to house his growing collection of more than 600 individual pieces.
Don a headlight and discover crystals, gemstones and fossils created millions of years ago – including the largest Amethyst geode in the world – as you weave your way through 250m2 of tunnels and grottos.
Cost: Entry is $25 per adult. 
10. Find the pyramid and take a hike
Cairns & Great Barrier Reef boasts its own ancient pyramid, but this one was formed by Mother Nature. Hiking Walsh's Pyramid in Wooroonooran National Park is basically a rite of passage 'round these parts, so lace up those boots and get set to huff and puff along the steep 6km-return summit track.
Although you won't find any long-lost pharaohs or treasure-filled tombs, the challenging cardio burn is worth it to take in spectacular 360-degree views of the ranges and farming landscape.
Cost: Free – but bring plenty of snacks.